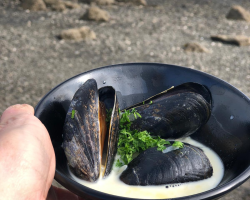 Glide with the Tide - 6 people private group
£534.00
Glide with the Tide Sea Kayaking
A unique way to discover a beautiful marine environment and its riches - taking out a kayak is an amazing way to explore Strangford Lough. Down at water level, you are in tune with the tides, the outdoors, the sea. If the tide and season is right, you will be foraging for mussels which you can cook together and enjoy with a local Irish whiskey cream sauce. In summer months when you can't gather mussels you can still enjoy an amazing Irish Smorgasbord with some of the finest foods from local Strangford producers. Please note we are using traditional Northern Ireland foods and it really isn't vegetarian friendly. If you have special dietary needs, please do contact John before booking and he will discuss options.
Gliding softly along brings you closer to the lough's wildlife, including seals and wild geese. If you are lucky in the morning you may encounter otters. Beginners are in safe hands with John Hubbucks, a kayak expert who has taught many people, of all abilities, to paddle. He knows Strangford Lough intimately and can help you explore its crystal-clear water, islands and inlets.
This voucher covers six people. Contact Stella at info@mobileteamadventure.co.uk or on 0289064 6695 or ring John on 07749011283 to arrange a mutually suitable time.
Suitable for all abilities, incuding beginners - aimed at adults but 16 or 17 year olds may join in if accompanied by a responsible adult. On a private booking, we also welcome younger children, accompanied by adults - please contact us to discuss the anticipated age range before purchase.
What to expect
Meeting at Whiterock, Killinchy, enjoy a relaxing paddle on the beautiful Strangford Lough for roughly 3 hours of paddling depending on weather conditions. You will stop off on the way on the island to enjoy a range of Northern Ireland speciality foods, which might include foraging for and cooking mussels if it's the right time of year. You will be looked after by John - a very experienced instructor who greatly enjoys sharing his love of sea kayaking and knowledge of Strangford Lough.
Wear warm comfortable clothing, and bring a change with you, just in case. A waterproof jacket is recommended to keep you comfortable if you are splashing. Social distancing will be maintained, though I'm sure you will appreciate that if you need someone to give you a hand they may need to be closer than 2m to help. We ask that anyone who has symptoms of Covid-19, or lives with someone who does, stays at home. Vouchers will be issued for use on another occasion if necessary. Equipment that cannot be easlly cleaned down will be set aside for at least 72 hours between users.