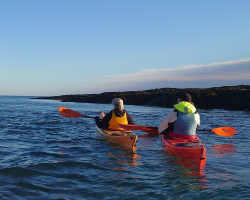 Island Explorer 3 hour session
£75.00
Island Explorer Sea Kayaking Experience
A relaxing three hour paddle on the Beautiful Strangford Lough, joining a small group. Observe the stunning scenery as you paddle your own kayak in the beautiful marine environment with all its riches - taking out a kayak is an amazing way to explore Strangford Lough.
Gliding softly along brings you closer to the lough's wildlife, including seals and wild geese. If you are lucky in the morning you may encounter otters. Beginners are in safe hands with John Hubbucks, a kayak expert who has taught many people, of all abilities, to paddle. He knows Strangford Lough intimately and can help you explore its crystal-clear water, islands and inlets.
Available sessions can be viewed and booked online by using the voucher code at https://mobileteamadventure.digitickets.co.uk/category/28402 or by contacting Stella at info@mobileteamadventure.co.uk or on 0289064 6695.
Suitable for all abilities, incuding beginners - aimed at adults but 16 or 17 year olds may join in if accompanied by a responsible adult.
What to expect
Meeting at Whiterock, Killinchy, enjoy a relaxing paddle on the beautiful Strangford Lough for roughly 3 hours of paddling depending on weather conditions. You will be looked after by John - a very experienced instructor who greatly enjoys sharing his love of sea kayaking and knowledge of Strangford Lough.
Wear warm comfortable clothing, and bring a change with you, just in case. A waterproof jacket is recommended to keep you comfortable if you are splashing. Social distancing will be maintained, though I'm sure you will appreciate that if you need someone to give you a hand they may need to be closer than 2m to help. We ask that anyone who has symptoms of Covid-19, or lives with someone who does, stays at home. Vouchers will be issued for use on another occasion if necessary. Equipment that cannot be easlly cleaned down will be set aside for at least 72 hours between users.